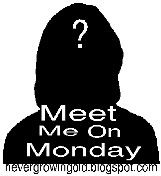 1. What is your favorite
dessert
?
Oh this is hard. But if its got chocolate in it I'll eat it.
2. What do you wear to bed?
Usually an oversized tee shirt
3. Do you get regular manicures/pedicures?
nope
4. Did you play any sports in high school?
hahaha nope
5. Do you have an iPod?
yes, my grandmother gave me one this past Christmas