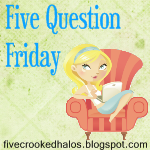 1. What is one food you could eat everyday?
Chocolate. But you probably knew that already. So we'll go with berries.I love berries.
2. Are you working in the career you thought you would be when you were 18?
Hmmm. Once I have a career I'll get back to you.
3. What is something that you wish you would have done when you were younger and you didn't?
two things- been an exchange student in high school and learned a foreign language as a child. If I have kids they are going to learn when they're young.
4. What color are your kitchen walls?
Well.....I'll get back to you when I have a kitchen/ Hopefully this fall.
5. Do you remember what your very first favorite song was?
Yes, I do.
Oh, you want to know what it is?
Achey Breaky Heart- Billy Ray Cyrus. I had the tshirt and everything.
What are your answers?